Primitive Ornies, Bowl Fillers, and Tucks for Halloween
The prim world has all sorts of people, just like anywhere else. Some are looking for primitive Christmas items and others are looking for primitive Valentines items. So I just never know what will bring people here.
Today I would like to get you ahead and get you ready for Halloween. Seems like I am always running short of inventory, so I am trying to put some things in early. You would be wise to get some while the selection is good!
As always these items are always changing, so they may be sold before you get there. If you have special requests or just missed an item that you really wanted Contact Me and I may be able to help you.
First, and new for this year, are Primitive Grungy Witch Potion Bottles.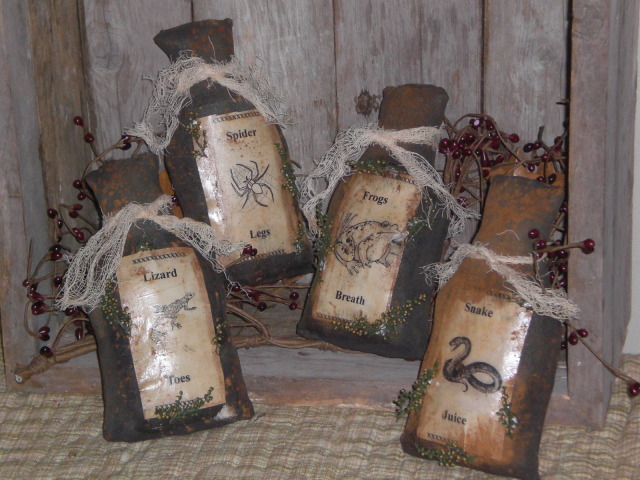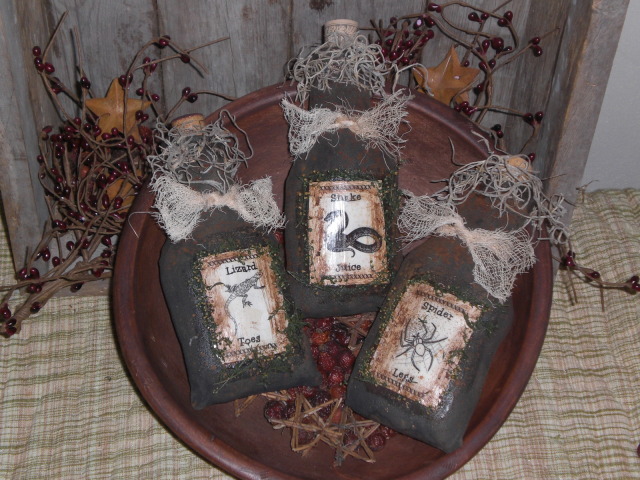 Since these are new this year, I am still working on the sets. As of now you may get 3 or 4. And they are a little different so be sure to read the description on the item you are purchasing. They are made with muslin and stuffed with polyester fiberfill. They have been painted black and grunged in my special solution to make them look and smell "Oh so prim"! You may see Lizard Toes, Snake Juice, Frogs Breath, and Spider Legs! All important ingredients, but hardly interchangeable!
And here is a Spooky Witch that can be a shelf sitter, bowl filler or hang it anywhere.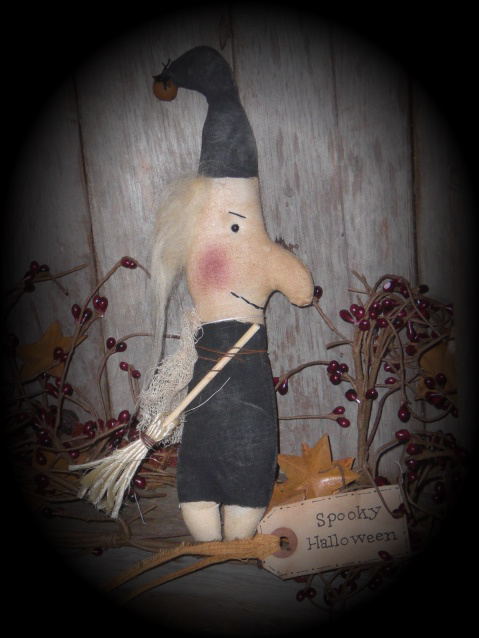 This Spooky, Grungy Primitive Witch is not for the faint of heart!
She has been made from muslin fabric, stuffed with polyester fiberfill and painted with black craft paint.  Antique white hair has been needle felted and she comes complete with a cheesecloth cape, a broom, and a jingle bell on her witch hat.  I have used black craft beads for the eyes and embroidered the eyebrows and mouth.  I've blushed her cheeks using some red craft paint.  A rusty wire has been tied around the witch to secure the broom.  This witch has also been lightly sanded to give her that prim spooky look!  A prim hang tag is included which says, "Spooky Halloween".
Primitive Hang Tags.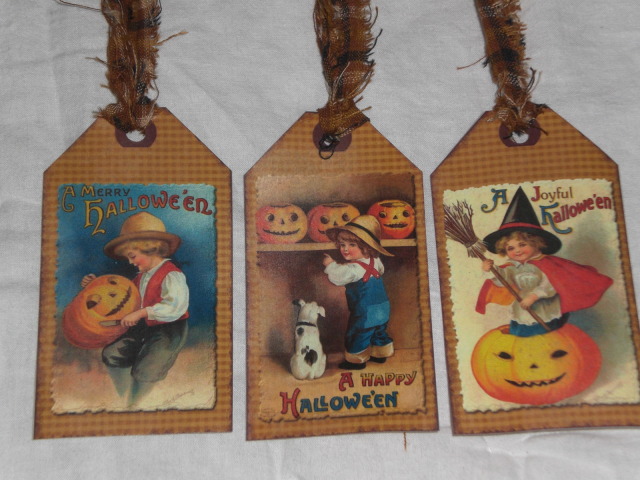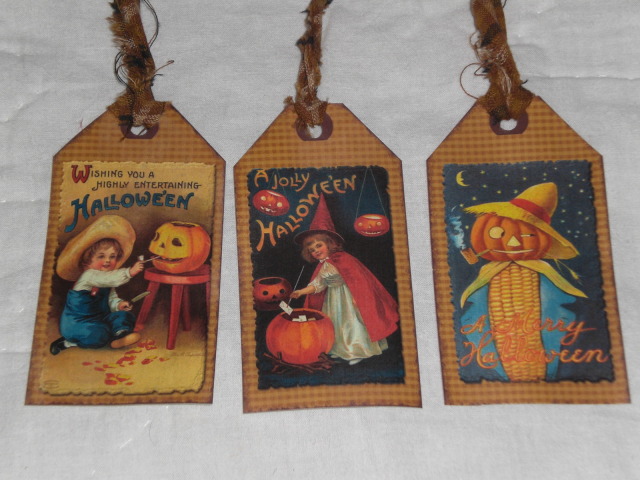 I have been busy making all different kinds of hang tags. Make sure that you visit My eBay Store to see them all! Here is a short list of some things that you can do with them:
Dress up your primitive dolls
Tie on goodie bags, fixins bags, etc
Use with scrapbooking projects
Hang on wreaths, holiday trees, swags
And I am sure that you can come up with many more!
Nothing says Halloween quite like candy corn, and I have got you covered!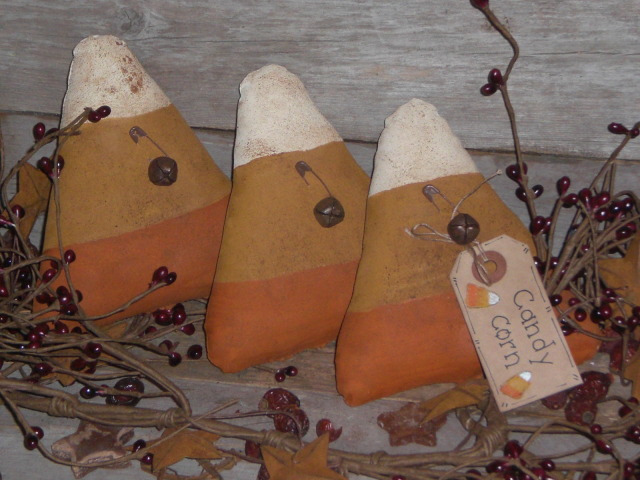 I have several different varieties so be sure to check them all out before you decide. Most were started with a muslin fabric that has been machine stitched and stuffed with polyester fiberfill. I then applied craft paint in colors of orange, mustard yellow and antique white and then a good dark grunging solution of coffee, vanilla and cinnamon to each candy corn and oven baked them to prim perfection.
Some have a rusty safety pin and jingle bell. Lastly, a primitive hang tag may be included. A homespun fabric tie may also be found on the tag. Most smell "Oh so prim" with cinnamon rubbed on them!
Primitive Halloween Spooky Ghosts Ornies Bowl Fillers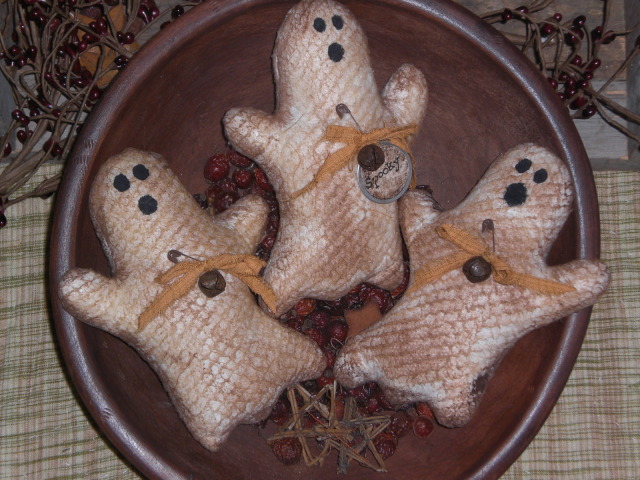 Perfect for tucking in your cupboards or on a shelf but especially nice to display in bowls, baskets and crocks during the fall & Halloween season. Just make sure that you leave a nightlight on. You wouldn't want to see one of these in the dark.
Each one of these ghost ornies have been made from warm and natural batting.  After each ghost has been meticulously machine stitched, I have stuffed them full of polyester fiberfill and then they get placed in my special grunging solution with additional cinnamon hand rubbed for added prim fragrance and finally oven baked for that prim perfection!
Black craft paint has been applied to the ghosts eyes and mouth.  I have also painted an outline on the outer edges of each ghost in brown craft paint just to give some added dimension.  Each ghost is different from the next and no two are quite alike.  I have placed a rusty safety pin and jingle bell and a homespun tie on each one and also attached a metal rimmed prim hang tag on one that says "Spooky".
Primitive Pumpkin Headed Stars ~ Ornies ~ Bowl Fillers~Tucks~ "Pumpkin Thyme"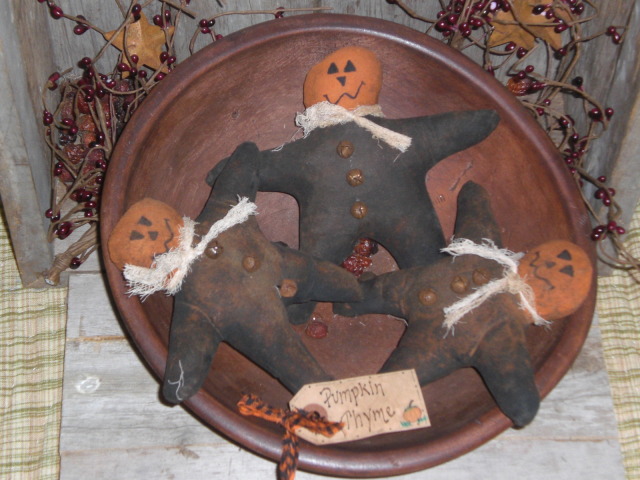 Starting with muslin fabric, I machine stitched each pumpkin headed star ornie~bowl filler. After meticulous stitching I then stuffed each one with polyester fiberfill.
I then used craft paint on each pumpkin star with the pumpkin head being painted a dirty orange color and the body painted black.  They get placed in my special grunging solution to make the look old and finally cinnamon gets rubbed on each handmade treasure.  They get a light sanding too to add to the olde thyme look.  I have hand painted the eyes and mouth with black craft paint.  Little rusty stars have been added on the front for buttons and a grungy cheesecloth scarf has been tied around each pumpkin's neck.
Each pumpkin star measures 6 inches tall and 6 1/2″ in length. Also included is a prim hang tag with your purchase which says "Pumpkin Thyme" and has a little orange pumpkin hand drawn on the tag.
Place these festive little primitive guys in an old wooden bowl, basket or crock. There are so many things you can do with these ornies. Maybe you want to sit them on a shelf or place them in a Halloween wreath. They would be perfect scattered on a table with some greenery underneath.  Perfect for hanging on the Halloween holiday tree too!
Wow, I didn't realize how many new items that I had for Halloween. There are many more in My eBay Store. Visit it to see them all. You will also see Halloween pillows, prim wheels, Jack O Lanterns,  and pumpkin stars, to name a few.
Hoping that you have a very Prim Halloween!
Margo