Primitive Easter Decorating Ideas
Easter will be here before you know it! You should be thinking about some ideas for primitive decorating now!
Of course you have already been collecting old boxes, baskets and bowls to start with. You could also just set some primitive eggs, bunnies, or other types of ornies on a shelf or up against something. You may even have a tree that you change with the seasons.
Spanish moss is nice for a base because it has that "prim"  look that we are after! You certainly would not want to use that bright colored grass from WalMart.
I have a few photos of some new items over at My Choose Moose eBay Store to give you some primitive ideas!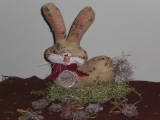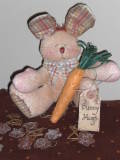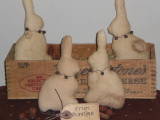 Here are some primitive bunnies. Some are big enough to be stand alone ornies and the others are a little smaller so you may want to put several together. You can just scatter some rose hips, or whatever else you have on hand around the base area. Or maybe you have an old piece of "prim" cloth or even an old place mat.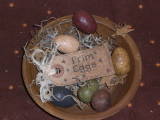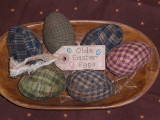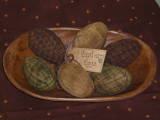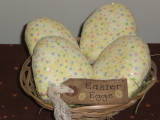 Here are some primitive Easter Eggs. These are shown as separate displays, but certainly bunnies and eggs mixed together would be a great decorating idea. I have Easter eggs that are ornies, flatties and hard, cloth wrapped. It would be perfect if you could find an old primitive Easter basket! But you can use anything that you have.
You could also use primitive old kitchen items in your display. Maybe you have some old kitchen utensils or pots and pans that would work nice. Especially if you are decorating in your kitchen.
Remember to keep your eyes open while you are out and about. Yards sales, thrift shops, second hand stores and antique stores are a get source of display material.
And don't forget the attics, closets, and basements of your older relatives! That's where the real treasure is. If you are old enough, you may want to look in your own storage areas!
Have fun decorating for your "Primitive Easter" and stop by   My Choose Moose eBay Store for even more ideas!