Americana Primitive Decorations for Memorial Day and The Fourth of July
Are you ready to show your primitive American Spirit for the holidays? Well they are coming, whether you are ready or not. So let me help you get ready. I have a good selection of Americana Primitives ready to go. I have primitive red, white and blue, just for you!
Primitive Patriotic Sheep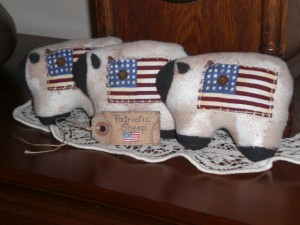 I just love these primitive patriotic sheep. This is a set of three plus a grungy hang tag that reads "Patriotic Sheep". They are made of white fleece and stuffed with polyester fiberfill. Then the face, hooves, ears, and tail are hand painted. Then a flag was sewn on the front. And then of course they were grunged in my own prim solution that makes them look and smell goooood!
Each sheep has a rusty bell and a rusty safety pin (which you can move if you like).
Another nice thing about these sheep is that they are reversible. So you can show the back side and the flag will not show. It is almost like getting two sheep for the price of one!
Primitive Americana Hearts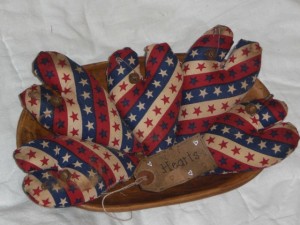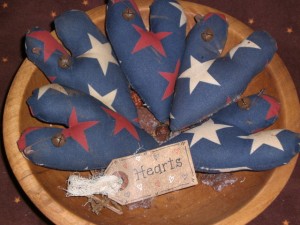 A couple of different prim fabrics. These hearts are in sets of 5. Each set has a grungy hang tag that reads "Hearts". Each prim heart is approximately 4 1/3 inches by 2 2/3 inches. They are processed in my special grunge solution. And they each have a rusty bell attached with a rusty safety pin. Just about anything that your little prim heart desires!
Primitive Americana Flags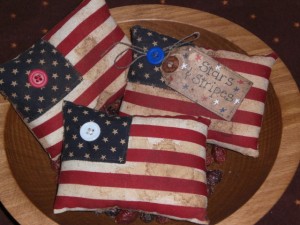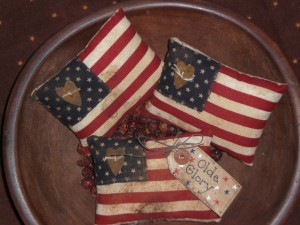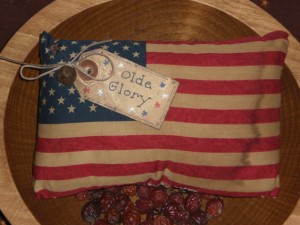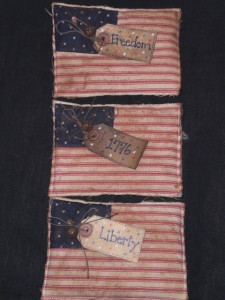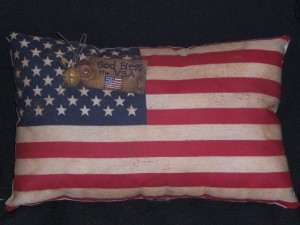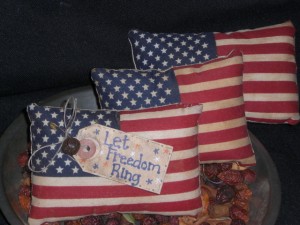 Primitive tucks, flatties, shelf sitters, ornies, and bowl fillers, on my!
Quite a selection this holiday season! Show your primitive pride with this large assortment of primitive flags. The largest is a shelf sitter that is about 11 inches by 7 1/2 inches. Olde Glory has never looked so prim!
Button, button, whose got the primitive button? You will if you get these ornies with a prim button hand sewn on each one!
Buy several and mix and match. Let your primitive creative mind run wild.
Primitive Firecrackers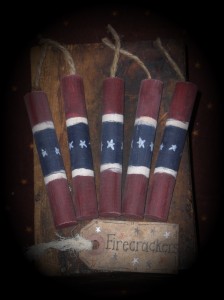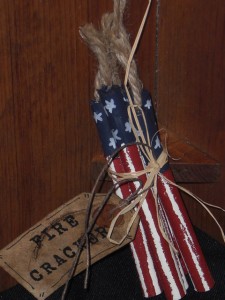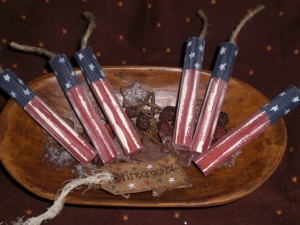 These primitive Americana firecrackers are made of solid wood. They have been hand painted by me in a couple of different styles. Then they were lightly sanded to give them that prim look that we all love. A piece  of jute was used for a "fuse".  I had a primitive blast making these!
Primitive Stars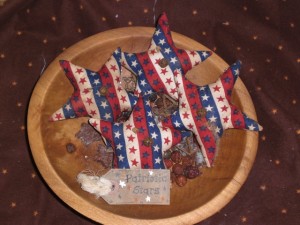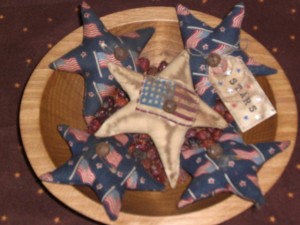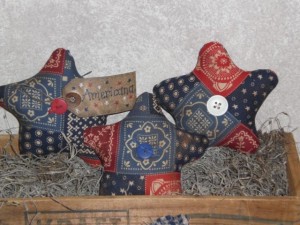 Nothing says Americana Primitive like stars! I have an assortment of fabrics hand sewn into stars with buttons, bells and hang tags. You should be able to find one that satisfies you.
Primitive Patriotic Pinwheels and Pokes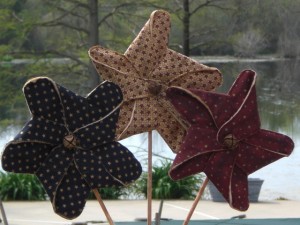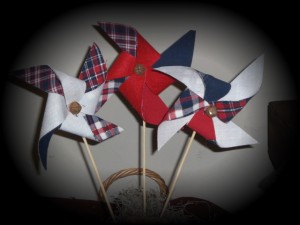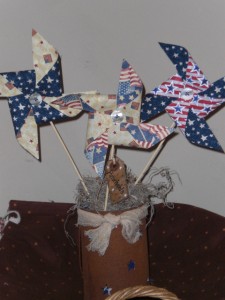 I love these primitive pinwheels. They are hand made by me and I had a lot of fun making them! They are new this year, but I think that they will be around for a while. Makes you think of a simpler time when children all had a pinwheel! There are a lot of different things that you can do with these. There is a good assortment of fabrics, buttons and bells. Let your prim imagination run wild.
Special Orders
All of these items are available on eBay right now. And of course they may be gone when you get there. So don't wait. But if they are gone, or perhaps you would like something a little different, don't hesitate to Contact Me. I may not be able to make what you want, but you never know unless you ask!
Here is that link to My eBay Store: ChooseMoose on eBay.