Americana Primitive Country Home Decor
Americana primitives are one of my favorites!
If you are looking for some perfect primitive home country decor ornies, bowl fillers, tucks, pokes, flatties or tucks, I may just have what you are looking for. I already have some in my eBay store and that is my project for the week. So if you don't see it, come back soon.
Also if you are looking for something that you can not find anywhere, contact me and I may be able to make something up.
Here is a look at some items that are available as of now.
Primitive Americana Pinwheel Pokes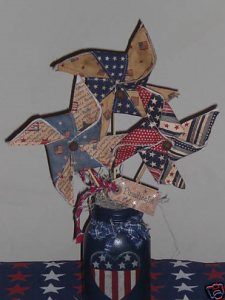 These are next this year. They are in a hand painted primitive Americana jar! All set up and ready to go. This is one of my favorite Americana Home Decor items.There are only 1 of these, so don't waste any primitive minutes!
Primitive USA Americana Patriotic Ornies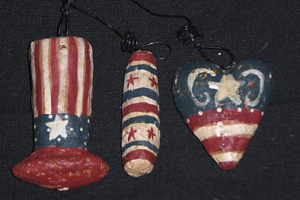 This is a set of 6 assorted primitive ornies. They are very prim. Hang them from your tree, put them in a bowl, or a primitive basket. These would be good for that year round display.
Primitive Wall Hanging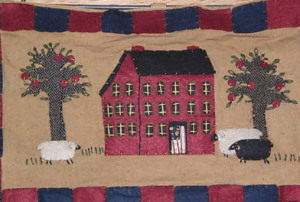 This folk art wall hanging has some really nice Americana colors. Salt box houses, sheep and trees. It is ready to hang with hanger included!
A Set of Six Primitive Americana Firecrackers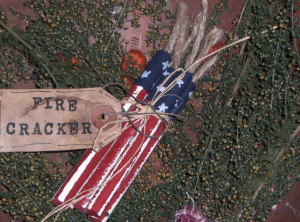 These firecrackers are made of wood. They are hand painted with that perfectly primitive Americana look. The fuse is made of jute. There is also a hand made tag included.
Primitive American Flag Shelf Sitter Pillow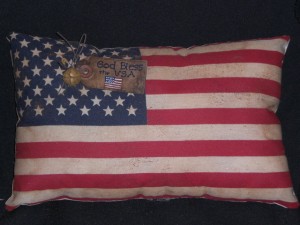 Perfect for your primitive home decor project. Comes complete with tag. Can sit right on the shelf by itself. Show your patriotic spirit all year long. Don't wait for the holidays!
Primitive Americana Hearts Ornies, Bowl Fillers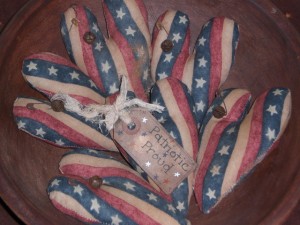 This is a complete set of six. Plenty to fill that primitive bowl. These have been "grunged" with my own special mixture of coffee, cinnamon, and vanilla. Comes with a tag as well.
Primitive Americana Flag Tucks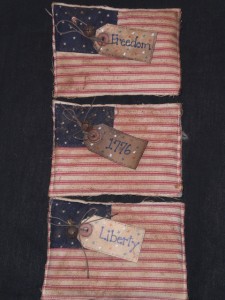 I am really happy with the way that this new item turned out. Each flag has a rusty pin, rusty bell, and a tag.  Very prim.
Primitive Americana Stars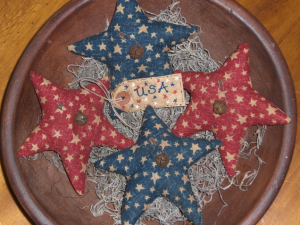 Nothing says Americana like stars! These primitive colors go together so well. They are a set of four. Also included is a hang tag. Each star also has a rusty bell. Many different ways to use these, and again, they would be good for primitive decorating all year long!
So visit my eBay Store before they are gone.  Show your American pride!